Harry Bertoia
was a true renaissance man. An artist, sculptor, jewelry maker, and designer. He designed a series of wire chairs for Knoll in the 1950's. His wire chairs are versatile in design and a true modern classic that can be used in a variety of interior settings. A chair that makes me drool!
A little History
: Harry Bertoia immigrated from Italy at the age of 15. After studying art and design (specifically metal sculpture) at various institutes, where he encountered the likes of of Edmund Bacon and Charles Eames, he set up shop as a jewellery designer, as WWII made metal a scarce and expensive material. Following the end of the war, he moved to California, where he participated in a co-op including design icons Eero Saarinen and Charles and Ray Eames developing molded plywood techniques for designing furniture. Finally, in 1950, he partnered with Knoll Associates and designed the Bertoia Collection for Knoll, which spawned the wire chair we are now so familiar with. Bertoia produced his famous line of wire mesh seating, including the
Wire Diamond Chair
, one of the most important designs in the history of modern furniture. The
Bertoia Wire Chairs
are now classic mid-20th century-furniture icons. In Bertoia's own words, "If you look at these chairs, they are mainly made of air, like sculpture. Space passes right through them."
How exciting is it (
for me anyway, the big furniture LameO
) to find 3 Bertoia wire chairs sitting in the junk pile of an up-coming action!! Very exciting!!
Oh auction gods please be kind to me!
I will tell you that the only reason I looked at the picture in the first place was to see the cute turquoise colored chair... but once I squinted my eyes a little, it was all over for the dime a dozen metal lawn chair and hello beautiful bertoia babies! Just picture those chairs with cool atomic fabric seat cushions. Mid-century dreamy!
.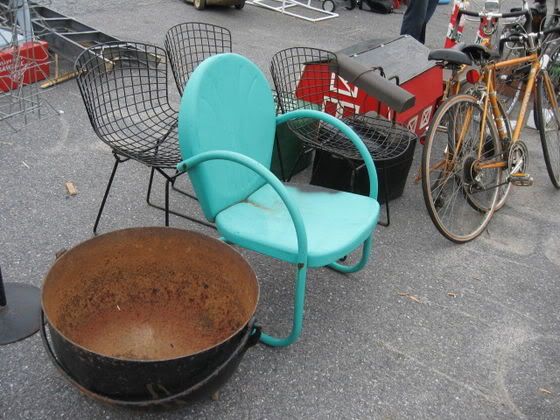 You can still buy these reproduction Bertoia wire chairs from various sites, but trust me, you will pay an arm and a leg for them. I don't know about you, but I need my arms and legs. I am hoping these are vintage 50's chairs.... here is the reason.....very early example of this iconic design features a double wire edge like the wire chairs Bertoia did for Eames. This double edge was either phased out during the first few years for production issues or patent issues. If they have a double wire design they are
very rare
and are his first wire chair designs before he went to Knoll.