I finally went off to auction again and actually bought something this time! I love going to a good auction where they offer you a variety of methods to buy things. They had two auctions going, one inside selling tray lots and items piece by piece and then another auction going outside selling box lots. I love going through boxes looking for treasures....you do have to not mind being close to people as when they are selling the lots people are really pushy and like to shove you around. It's like being on the subway except you can find cool stuff in the crowd! I gave myself a budget of $100 bucks and here's what I bought!
I started off outside with the box lots and found a box with these really cool glasses in them....you know how I feel about vintage glasses. I wasn't sure if all the glasses were going to be there and in good condition but I got lucky and they were! $10 for the box.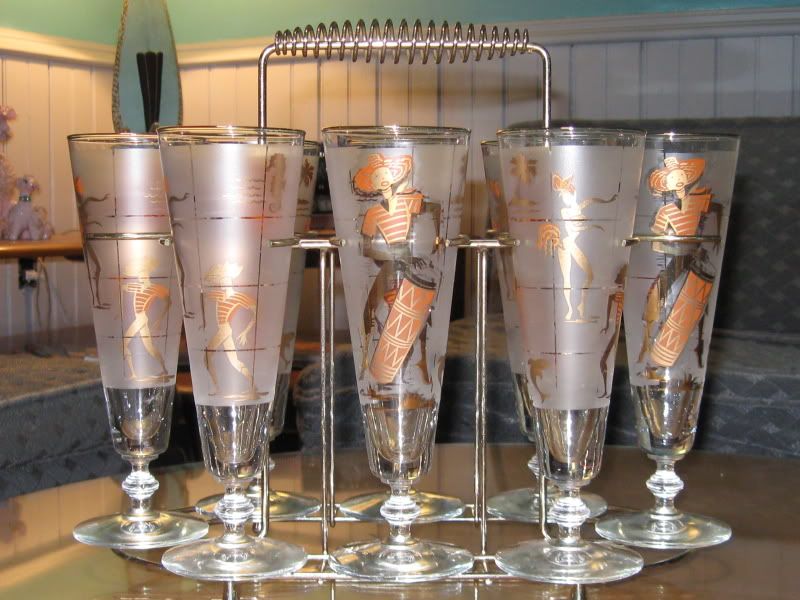 I then bought a box of junky crap just because on the bottom of it I ran across a vintage hula dancer! $10 for the box of junky crap but I think she was worth it.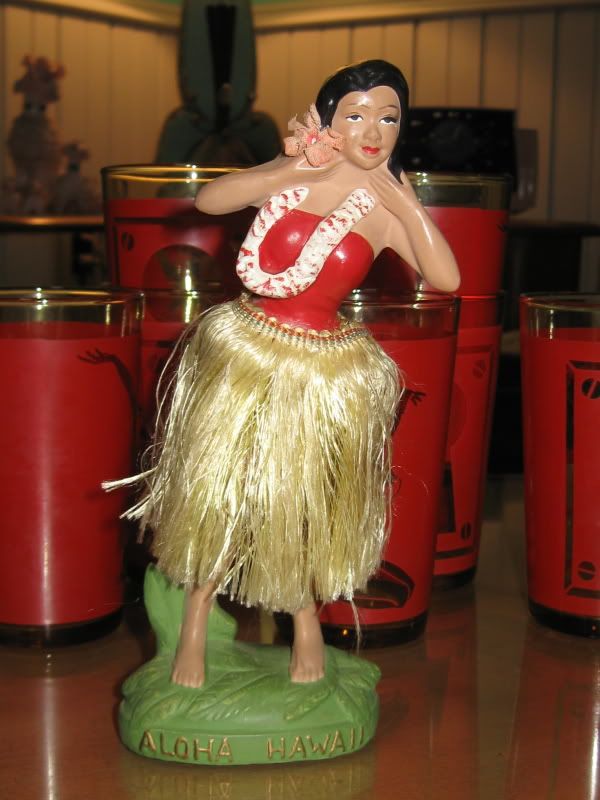 That was it for what I picked out of the box lots! I headed back inside to warm up and have a look at what was selling there. Take a look at the glasses that are behind the hula dancer. I like to call them keyhole risque glasses because when you look through the keyhole you see a picture of a woman in a bikini.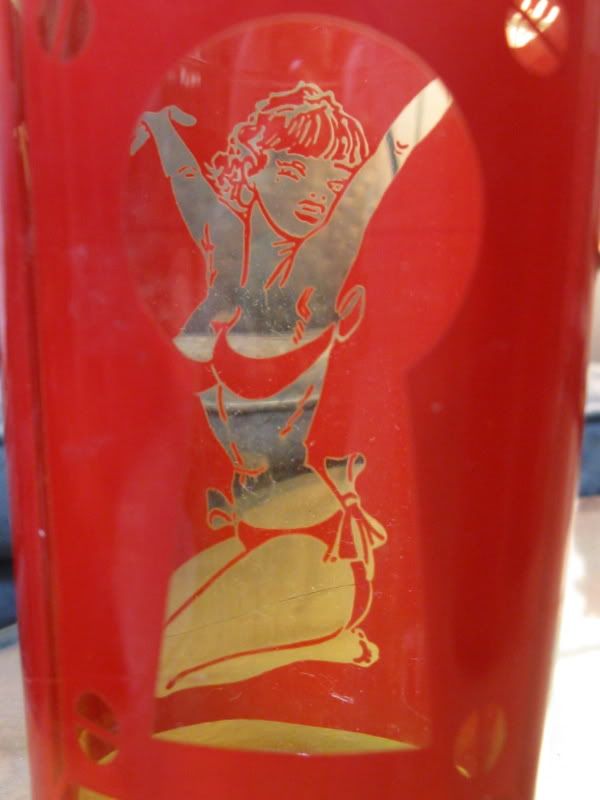 I really just wanted these glasses but had to buy the whole tray lot of items. So, with the glasses I also got two vintage traveling liquor cases. All for $25.
.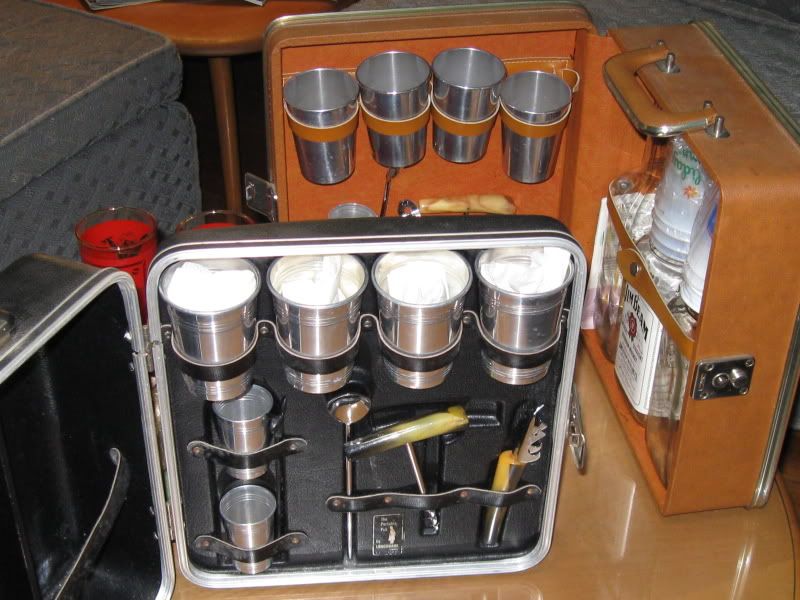 I bought another tray lot just for the Heidi Schoop ceramic figures. I love ceramic pieces by Heidi Schoop and this is the first set I have ever seen that went cheap enough. $25 for all the ceramic pieces on the tray. I don't think they knew what they were. The art deco yellow bud vase is very cool also as well as the two ceramic vases. A deal I think for 25 bucks!
Information about Heidi Schoop:
Hedi Schoop was born in Switzerland and an accomplished dancer in Germany, married to a well-known composer, Frederick Hollander. In 1933 Schoop and her husband fled Nazi Germany. After settling in Hollywood she began experimenting first in plaster and later in pottery, and soon became one of Califoria's most respected manufacturers of ceramic products.
Almost all the pieces produced at Schoop's North Hollywood factory were personally designed and modeled by Hedi. The most popular lines were the figurines of men and women...European and Asian couples in native attire, Hawaiian hula dancers and American debutantes. Besides the human figures Hedi Schoop produced animal figurines, vases, planters, candlesticks, ashtrays, and more...often these articles formed coordinated sets of items.
Business thrived in the 1950s, but a disastrous fire destroyed her factory in 1958. Schoop chose not to rebuild, instead selling some of her molds to other local manufacturers, and doing some design work for The California Cleminsons. Hedi Schoop retired from the pottery business in the early sixties
.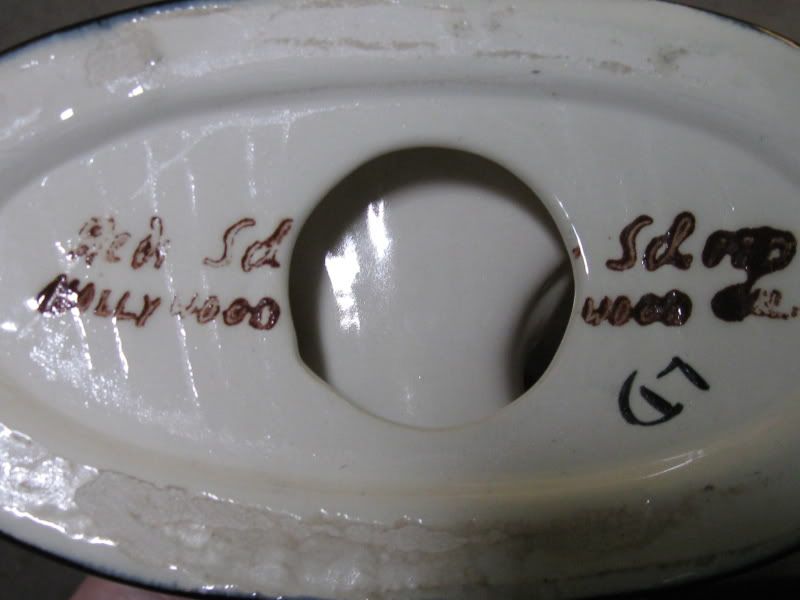 And last but not least I bought this huge picture.....once again paying $25....it seems that my lucky number today was 25! It's very dirty and needs cleaned and the frame repainted but I'm hoping it's signed uner there somewhere! I just couldn't say no to flamingos.
Edit...I found a signature!!!! SCORE!!!! It's a Turner !!!!!!
I'm so excited...that's what I thought it was but the glass was so dirty it was hard to find a signature.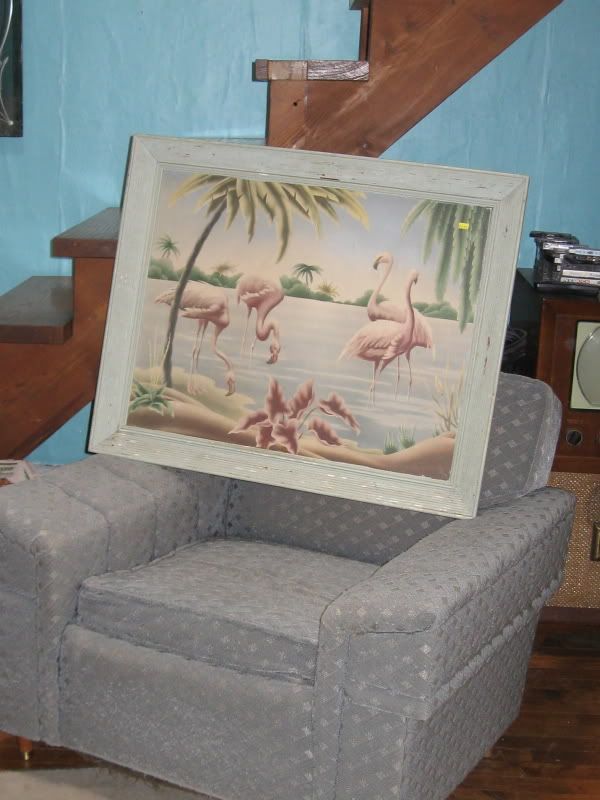 But the cutest thing I saw all day was the little Amish boy (side right) who was simply mesmerized by the other little "english" boy playing a hand held video game. It probably didn't help that as the little boy played his game he would yell out... "KAPOW" " BAM" and in general bomb exploding noises! I was laughing so hard I just had to sneak a picture!