I am so counting this for
my list
of things to do in my 38th year! I made bread...almost the old fashioned way. Lets face it, just like the house wife of the 50's, I gave in to a gadget that would make my life easier in the kitchen. May I present to you my Welbilt bread machine, that I found cheap at auction the other week, and have affectionately nicknamed R2. I've been dying to clean R2 up and give him a go and what better day to do that then a snow day. So, off we go!
I think this is a fairly old bread machine from 1990 but top of the line for then. Nothing but the best junk for me! It's in super good condition and even came with recipe books. No complaints from me. How cute is this bread machine.... look at R2's loaf gettin toasty!
OMG...I'm so domesticated now, I can't stand myself! Oh boy did my house smell good today. Aside from the whole electricity thing and my need for it, I could almost be Amish!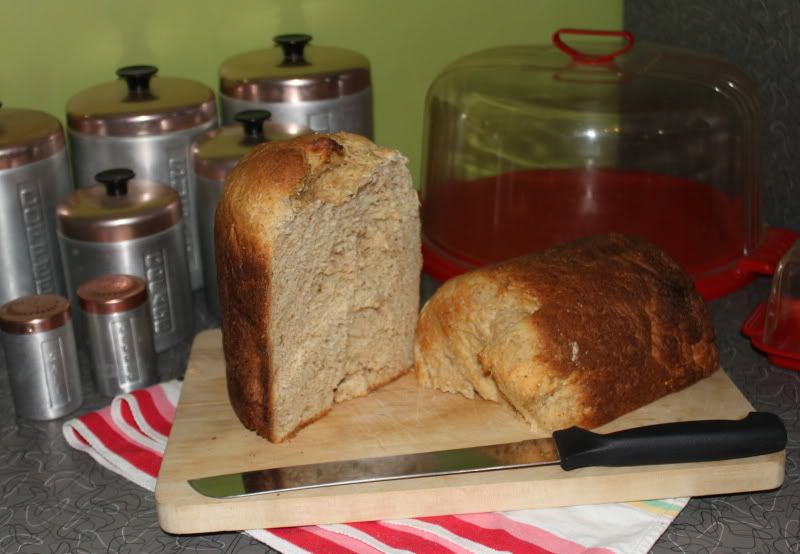 I don't care what anyone says, I'm counting this as home made bread! After all, I did put all the ingredients in R2 in the correct order, hence allowing the bread to knead and rise correctly. Next I'm gonna get really complex and try sour dough bread. Sour dough is a very high maintenance bread and I look forward to trying to conquer it. Mmmmmm, I can just taste the sour dough grilled cheese sandwich right now.