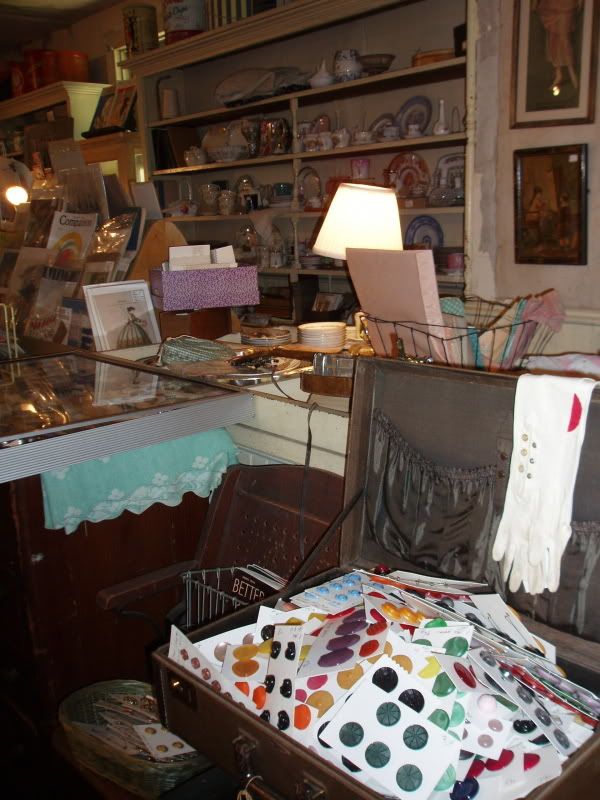 Last week I ran across this ad for
The Gatchellville Store
over on Craig's list. A sale on bakelite! If that doesn't make a gal want to drive off into the country looking for Gatchellville, I don't know what would! So, I did! Now, I know I probably could have taken the more direct route to Gatchellville, but I have this thing for wandering around back country roads and getting lost when you have nothing better to do! Eventually, I found Gatchellville. Actually, I drove right through Gatchellville and had to turn around! hahaha It's a tiny town, don't blink or you'll miss it and the awesome Gatchellville Store!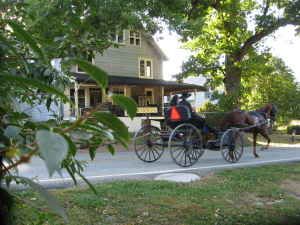 Linda Sarubin and Carroll Swam are the owners of the store and couldn't be more welcoming! I was in love as soon as I walked through the big, old front screen door! Of course I made a bee-line right for the lovely bakelite!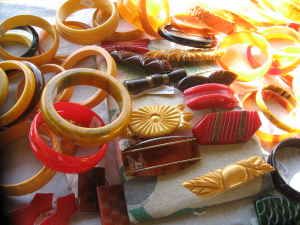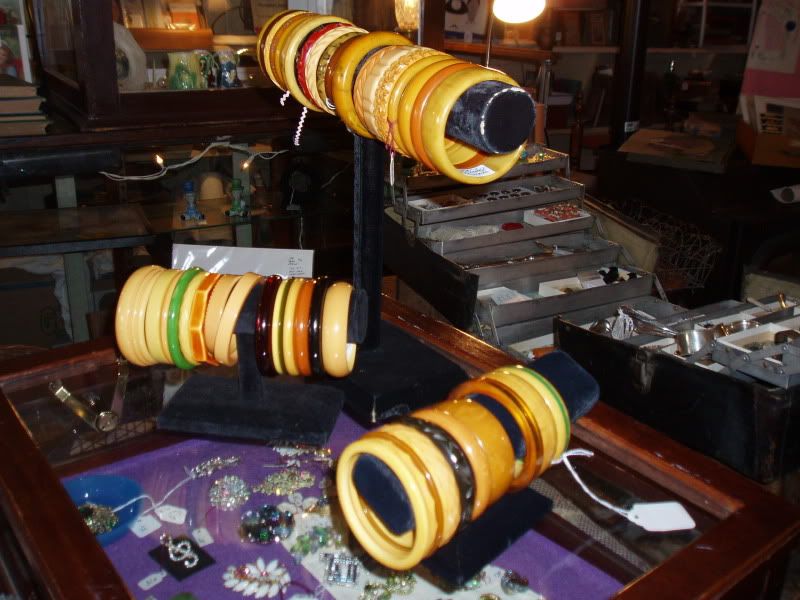 Bracelets, pins, and buttons oh my! I said buttons right! Linda has the biggest supply of bakelite buttons that I have ever seen! There are buttons every where in the store. Linda has a whole corner full of vintage buttons in old boxes! Amazing! I now know where to come if I ever need vintage buttons for a sewing project!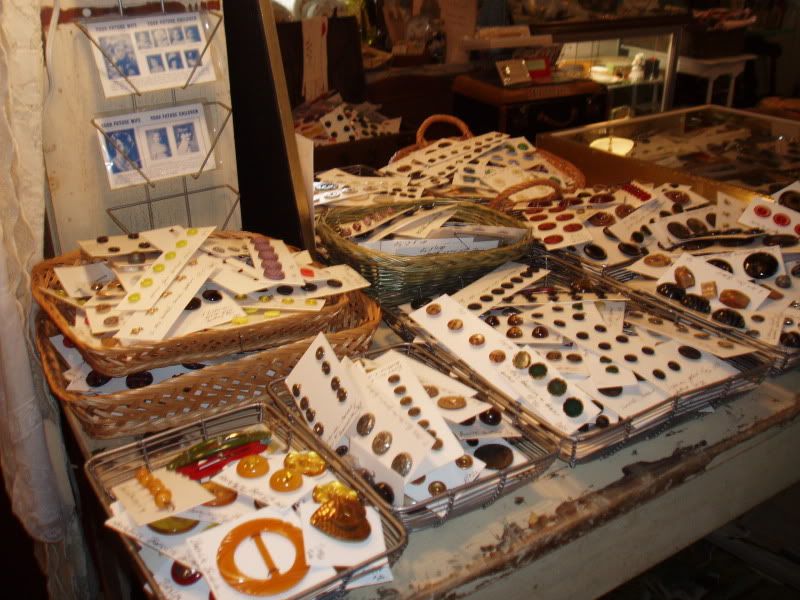 I settled on this fab red carved bakelite bangel!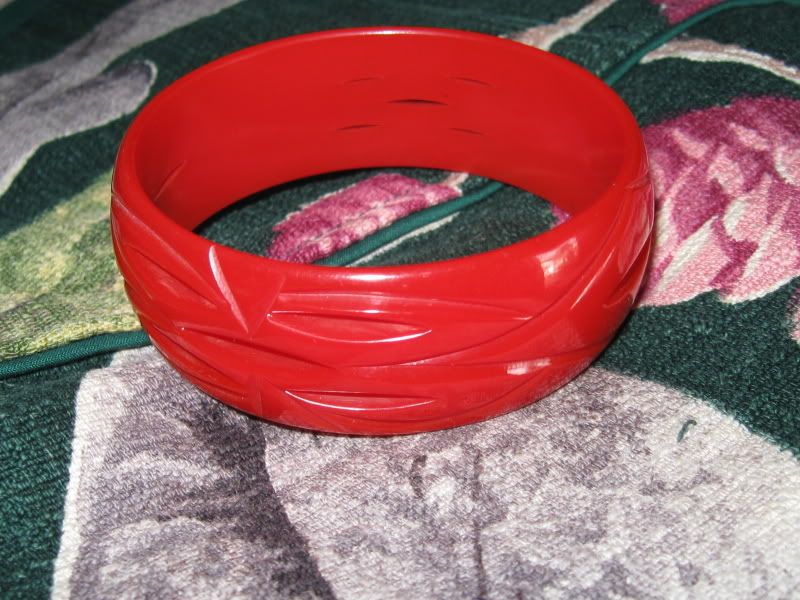 Then I headed upstairs to the 2nd floor where everything was half off! That's where I discovered this cute little atomic drinking glass set, at half off, a deal I couldn't pass up! I also spied some vintage dressing robes from the 40's and a couple pair of side zip vintage dungarees from the 40's/50's. Not my size or I would have snagged them up too.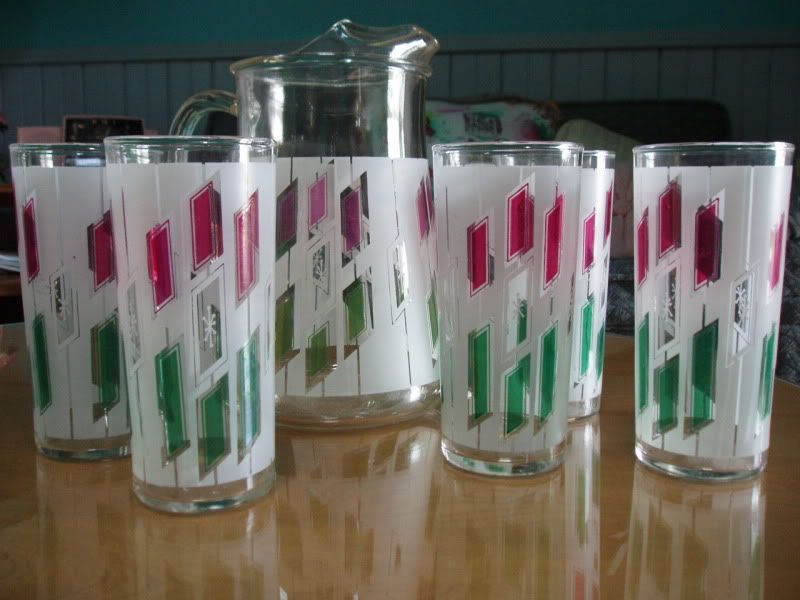 Linda also has a selection of vintage barkcloth. I just couldn't resist this cute tote bag made from vintage bark cloth fabric. It's very well made, has lots of pockets, and perfect for carrying my laptop and work supplies! The Gatchellville Store has lots of interesting old things and reasonable prices. Worth a drive in the country!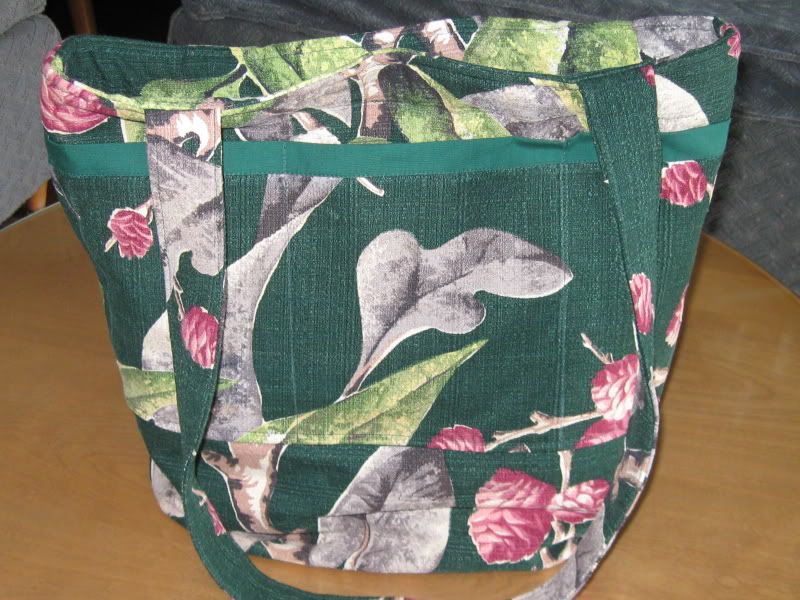 After leaving the Gatchellville store, I headed to New Park to check out the New Park Exchange. The store isn't as full of interesting old stuff as the previous store but I did find something for my tiki collection among the shelves! I totally needed some palm tree stir sticks and a new tiki mug! And the cute little old woman at the counter only charged me $3.18! My tropical summer drinks will taste soooo much better now with plastic palm trees in them!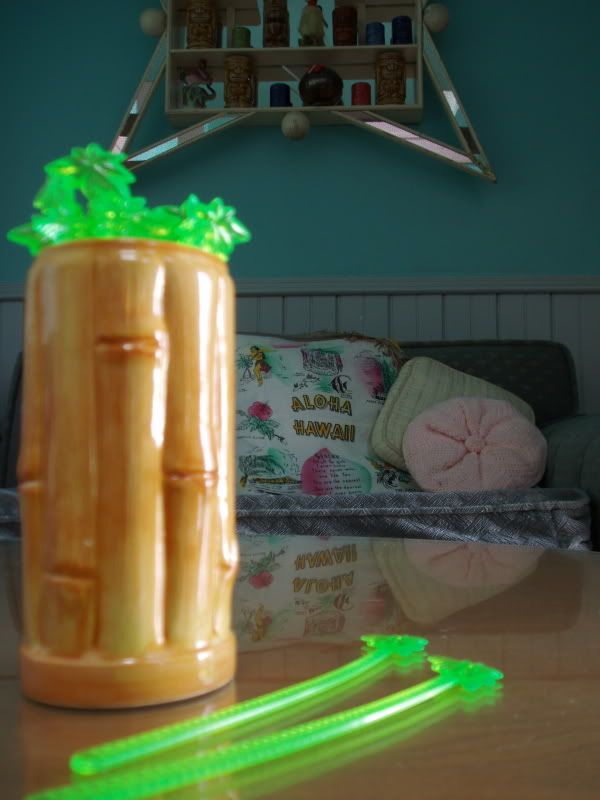 Here's some other antique places to check out in the area of southern york county if you want to make a whole day of treasure hunting!
Shrewsbury
, Pa has lots of interesting antique shops. There use to be a really fab vintage clothing shop there called
Another Time Vintage
but sadly she has closed her actual store and only sells online. She had AMAZING vintage clothing! Also try Red Lion, Pa .....
Vintage JoAnn
and
Hometown Antiques
.
Another time Vintage
use to have a booth at Hometown Antiques but sadly that is gone too. I could just cry!
Have fun!
Hmmm, I wonder where I'll go tomorrow??!!