My birthday is coming up here in like 15 days or so, and I've been really thinking about what I'm gonna be wearing for my big night out seeing the Puppini Sisters. Last weekend I spent a day going through my closet looking for my birthday dress...the one dress that makes me look extremely hot on my birthday and I came up with nothing. My most favorite birthday dress no longer fits. It's now to big in the shoulders and waist...the only draw back to losing weight is no longer being able to fit into your favorite clothes. Of course it's also good because you get to go shopping for new things. As many of you know, I like to look for vintage clothing to wear and so I turned to Ebay to see if I could find a dress suitable for my birthday. No luck as of yet. Things are either to big or to small. Not a great selection out there right now and remember I like getting deals on things. I have a few vintage shops that I want to check out this weekend so I hope I might get lucky at one of those places. The bad thing about collecting and wearing vintage is that it takes so long to get a wardrobe together and girls can tend to be horders of clothing even if it doesn't fit them. When I find something that doesn't work for me I tend to send it back into the universe as I think this will give me the good vintage karma that I need to find more cool vintage things. Plus it's always good to try to keep the clutter down as much as possible. I think Mr. Riot thinks I'm to cluttered and that I have way to much stuff. I say...raspberries to you Mr. Riot...I think your place is B-O-R-I-N-G!
Okay well anyway back to my dress! I really need to find something new because I so deserve a new dress. if anyone has ideas of where to look, please send them my way!
This is my amazing birthday dress that no longer fits...but I swear I'm gonna get it altered once I find a good seamstress... I dug this dress out from under a heap of crap at an flea market stand (notice the wrinkles) and bought it for 11 bucks without ever trying it on. When I finally got home and put it on, it fit like a sexy dress dream...until now..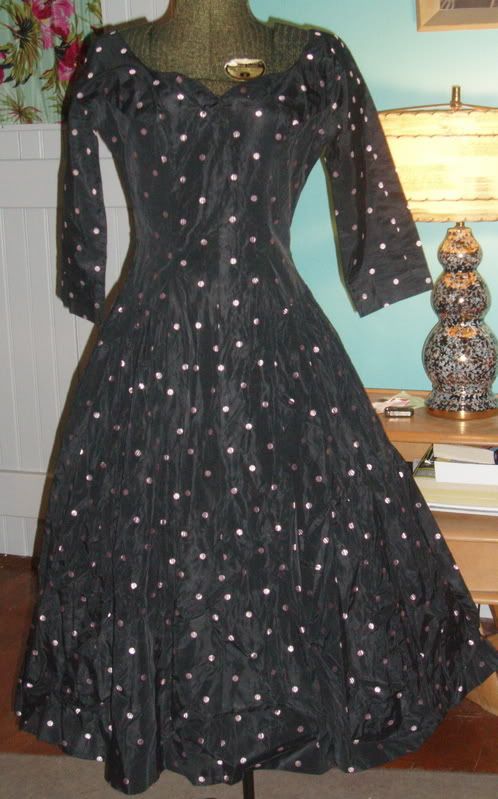 What I love about this style of dress is the drop waist with the boxed pleats along the hips...it's a very flattering style on an hour glass gal.
In the big pile of clothes I also found this dress!! Another 11 buck dress I bought without trying on... When I got it home and tried to put it on, that's when the fabric started splitting from dry rot. Dry rot is very evil to certain fabrics and sometimes not obvious until you wear your item. This dress made me cry because the fabric and the cut is so amazing. Someday I will find someone to make me a copy of this dress.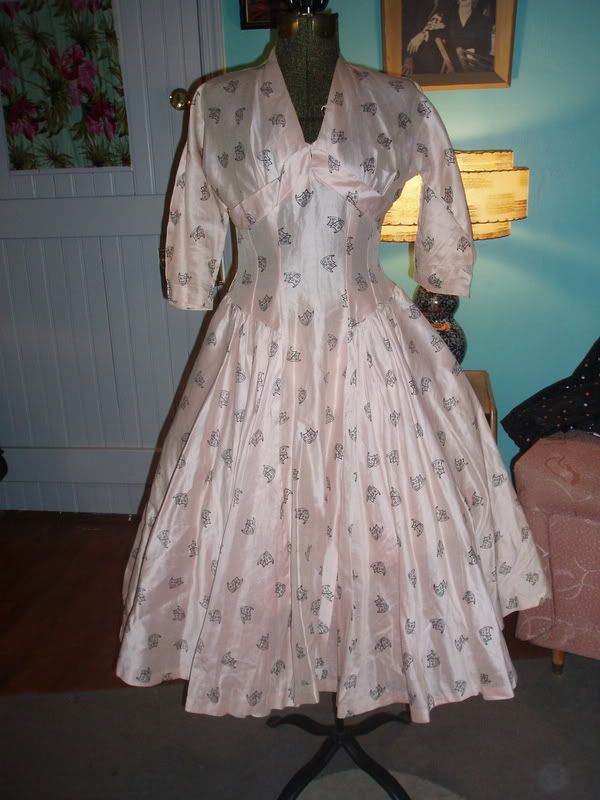 So yes, I'm on a mission to find a birthday worthy... I'm 37 but look 27 dress!