Where did my two weeks of vacation go??? The holidays went by like a big blur! I ran around like an idiot and got to spend some quality time with Mr. Riot! That was fun Mr. Riot, thanks for coming to visit me.
No, I did not get any cool Heywake pieces at auction! That evil dealer showed up and I knew there would be no deals to be had by me so grabbed Mr. Riot and we left. I just couldn't justify making any expensive furniture purchases at this time.
But I did justify making a less expensive leather boot purchase! Of course, the boots were marked as half off and I had a coupon so I got myself quite the deal. Even the sales person was impressed! I've been wanting a nice pair of leather boots for some time now but always have a problem with getting the zipper to close over my 14" calves. I found a nice pair of Circa Joan & David "Nifty" boots that fit me perfect.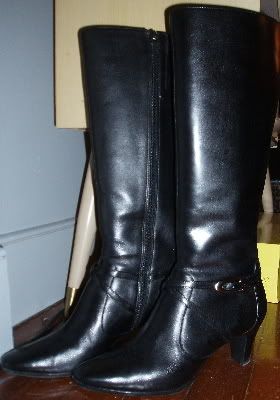 Took Mr. Riot out to Anne Baily's for dinner and over all we spent some nice quiet time together. So, tomorrow it's back to work and the same old routine. Soon my work year will be half over and I'm getting excited for spring to finally get here!