Having a dinner party? It's time to get out your best plastic! In the 1950s and early 1960s it seemed that plastic might
replace traditional ceramics for use in the dining
room, as well as for picnics. These plastic impostors were made from Melamine
Formaldehyde or just Melamine as it was known. It was tough, the manufacturers claimed, almost unbreakable. It could be
moulded into contemporary shapes and be bright and colourful - 'gay' to use a term from the era.

Melamine was developed just before the War in both Germany and America.
It is the material Formica is made from. Plates and cups made from Melamine were durable and if you
dropped them on the floor, they had a good chance of surviving.
In the fifties and sixties, Melamine worried the manufacturers of ceramics so much that Midwinter even introduced its own
Melamine range -Midwinter Modern.
However, although claims for its durability were true, it was not
totally indestructible and unfortunately, Melamine cups were stained by
tea and coffee. This was especially obvious on the two-tone cups and
bowls with a white lining. In the end, it failed to
unseat traditional ceramics and was still preferred only for picnics
and camping by most people.
The real reason, perhaps, was that although plastic tableware was initially expensive, and enjoyed a brief spell of
being fashionable, it could never have the prestige of ceramics in the eyes of the public. In the end it was always
going to be mass produced.
Still plastic tableware was bright and fun. The trend for eating
outside - especially in the summer is bringing Melamine back. Habitat
currently stock a colourful range.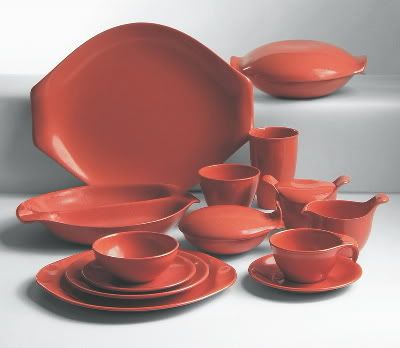 Russel Wright "Residential"
Russel

Wright designed several popular lines of Melmac melamine resin plastic dinnerware for the home and did early research on plastic Melmac dinnerware for restaurant use. Wright's first Melmac line of plastic dinnerware for the home, called "Residential" was manufactured by Northern Plastic Company of Boston, MA beginning in 1953. "Residential" received the Museum of Modern Art Good Design Award in 1953. Also "Residential" was one of the most popular Melmac lines with gross sales of over $4 million in 1957. The line remained popular for many years continuing in production by Home Decorators, Inc. of Newark, NY. Wright introduced his Melmac dinnerware line called "Flair" in 1959. One of the patterns of "Flair", called "Ming Lace" has the actual leaves of the Chinese jade orchid tree tinted and embedded inside the translucent plastic. As with his ceramic dinnerware, Wright began designing his Melmac only in solid colors, but by the end of the 1950s created several patterns ornamented with decoration, usually depicting plant forms.